so we got to the beach 4 more hours after stopping at vigan. the resort itself was located on a winding dirt road, along with other resorts in the area. the kids were all set to play in the sand, but had to wait a few more hours, since it was still high noon.
after that, everyone jumped into the ocean. since we were on the northern part of the country, although it was sunny, we didn't really feel the heat. in fact, it was quite chilly at around 4-6 PM.

the water was clear and blue, and the sand was white, better than puerto galera. plus, there wasn't a lot of people in the beach--plenty of space to move around. it didn't have that "party place" feel to it, like PG (puerto galera) and Boracay. It was more laid back, peaceful, and quiet. you could only hear families enjoying themselves, and children laughing from playing in the sand.
it's advisable, i'd say to bring a lot of food, especially if you have children with you. food can be quite expensive since there are very few stores and restaurants in the area. with no TV on the resort we stayed in, my nephews and nieces had no choice but to play and talk with each other the whole time. that's good i guess; at least they got to bond with each other.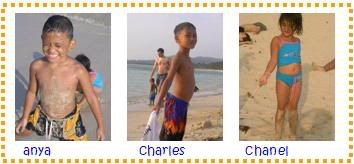 all in all, it was a good out-of-town experience for all of us. even if the road trip was a bit long, everyone got to relax and have a good time.